About Safe-Dry® Carpet Cleaning
Safe-Dry® Carpet Cleaning is an all-natural carpet cleaning company that specializes in, and is committed to, providing carpet, rug and upholstery cleaning solutions without the use of harsh chemicals. Our mission is to provide cleaning methods that are safe, hypoallergenic and soap-free, and that most importantly, we can be proud of. With a 100% satisfaction guaranteed, our uniformed technicians are fully trained to exceed your expectations with every cleaning and will go above and beyond to ensure your carpets are clean, dry and residue-free.
Our Patented Cleaning Process
Born out of the idea that professional carpet cleaning should be safe for our your family, pets and home, the team at Safe-Dry® worked tirelessly to develop the a better, safer carpet cleaning solution. After years of research and development, our team developed the original Safe-Dry® carpet cleaning method, a low-moisture approach that uses 1/10th the amount of water used in traditional steam cleaning methods and that dries twice as fast! Fast forward to today, and Safe-Dry® now uses safe, organic and green cleaning solutions for all of our upholstery and carpet cleaning services. With our carbonation-based cleaning solutions, we are capable of cleaning your carpets in as little as one one hour, while leaving them completely residue and moisture-free. This process eliminates any risk of mold or mildew growth, while completely removing stains, dirt and grime from your carpets. And because it's soap-free and allergen-free it is completely safe for you and your family's health.
Our Mission
With our over 30 years of experience in the carpet, rug, and upholstery cleaning business, there is very little we have not encountered. From updates to products, upholstery, and even advertising, nothing has remained constant, with one exception. From the start, Safe-Dry® has been constantly committed to our customer's satisfaction, going to enormous lengths in technology, production integrity, and training to always exceed their expectations. We strive to ensure that each one of our customers is ecstatic about the cleaning services we provide to them, and will stop at nothing if we ever fall short. If you cannot recommend us to your friends and family, we did something wrong! Unsatisfied with our service? Let us know and you can be rest assured that we will make it right!
Live Cleaner Services
Safety Shield Protectant
Pet Odor/Stain Removal
Allergen Treatment
Antibacterial Sanitizer
Problem Stain Removal
Sales and Service Awards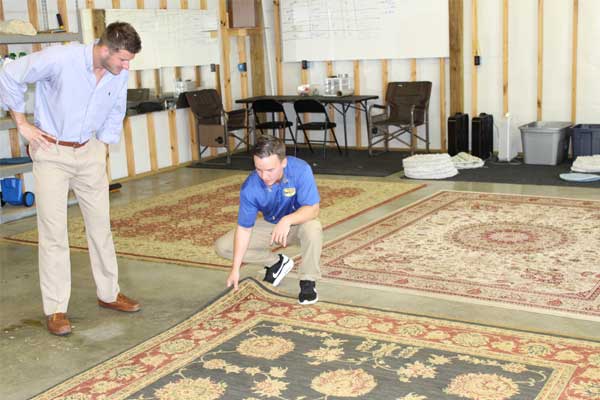 Reviews From Real Customers,
Customer Satisfaction Is Our #1 Priority!
I can not say enough good things about Safe Dry! They worked around my schedule and were punctual. Tanner was very friendly and discussed which cleaning was right for me. I highly recommend their services especially to anyone who has allergies.

Allison Smith
Customer
I had the pleasure of meeting of John today who did an awesome job on my carpet! He was extremely nice and I was amazed at how clean my carpets are and hate I did not take before pictures. I would highly recommend their services, you will not be disappointed!

Sherrie Flowers
Customer
Worked with Tanner to set up and Sam to clean. Had 2 rooms and a rug to clean. Was a little unsure of the process because it wasn't the traditional carpet cleaning. Glad I stuck to my guns and used Safe Dry. I am pleased at the results. Saw the special on line but found the special was for a basic cleaning. I needed a deep cleaning which costs more but is worth it. And it does dry fast.

Penny Layne Prude Brand
Customer
Jake did an awesome job cleaning my carpets. Very helpful, courteous, and professional. I'm very pleased with the results. They claimed I'd be "wowed," and I am very much wowed! Thank you, Safe-Dry® of Germantown!

Cindy DeBoard
Customer